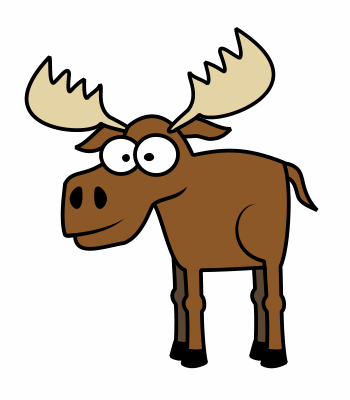 Frequently Asked Questions
How many people can stay? The Goofy Moose will comfortably sleep 10 to 12 people. Under no circumstances are more than 12 guests permitted to stay at The Goofy Moose unless authorized.
Is the cottage child friendly? Yes! The Goofy Moose has a child friendly shoreline with shallow entry. The lower level of the cottage (games / recreation room) is great for kids and is equipped with large screen T.V for portable game playing (includes N64, PS2, or bring your own) as well as air hockey and children's tents / forts.
Are cribs and high chairs available? Yes. The following baby items are readily available at the cottage - 2 Cribs, 3 High Chairs, 1 Pack & Play crib, and 1 exer-saucer for the little ones.
Do we need to bring bedding and towels? Yes. Bedding is not supplied. Guests are required to bring their own queen or single sheets, as well as pillows, if you prefer, and towels.
Are pets allowed? Generallly, pets are permitted however must be authorized before your stay. Additional charges may apply for more than 1 pet. Please pick up after your furry friends.
Is there cell phone reception and/or a telephone? Yes and No. Cell phone coverage is spotty depending on the weather conditions and your service provider. Reception is often better at the dock, while you enjoy your beverage of choice, or at the top of the driveway. There is a telephone however it is strictly for local and emergency calls. Guests are expected to use a credit / calling card or their own mobile phone.
Where and how far is the nearest hospital? The two closest hospitals are located in Minden and/or Haliburton which are both about a 20-to-30 minute drive.
What stores are close by? The closest store is the Irondale Country Store on Hwy 503 and is an easy walk from the cottage. Gas is also available here however the store does have limited hours - you will find basic supplies here. An LCBO, Freshmart, Pizzeria, Chinese Food Restaurant, Ice Cream Parlour and variety store are all located in Kinmount about a 10-minute drive from the cottage. Larger supermarkets and other amenities are all available in Minden and/or Haliburton.
What are check in and check out times? Summer check-in time is Saturday at 16:00 (4:00 pm) Summer check-out time is Saturday (+7) at 11:00am.
Are there any Minimum Booking Durations? In the summer, The Goofy Moose is typically booked by the week Saturday-to-Saturday. A booking by month or weekend can be accommodated. Please call or email to inquire about rates and availability. Summer weekend bookings are subject to availability. In the fall and winter season, the cottage can be booked by the weekend or full week. Please call or email to inquire about rates and availability.
What is the cancellation policy? If you cancel your booking within 30 days of your rental date, a full refund will be made. If you cancel inside of 30 days to your booking, one ½ of your deposit will be returned.
Are there winter activities close by? Right out the front door the lake is ready for fun. Ice fishing, skating, and snowshoeing can be done right on or around the property. Sir Sam's Ski resort and Haliburton forest are within driving distance. The Good-Pen Snowmobile trail is about 10km from the cottage.
How many cars can be parked? There is ample parking for 8 cars. The base of the driveway (summer only) can park 3 vehicles as well as another 3 vehicles at the top of the driveway. Overflow parking via a parking pad is also available at the top of the property for 2 to 3 vehicles (summer only). Boat and/or snowmobile trailer and all winter parking will need to utilize the top of the driveway. Valet is not included.
Is the cottage winterized? Yes. The Goofy Moose is winterized with a heated water line and secondary heat source.
Should we book early? Yes! Summer rental bookings begin as early as December. For best summer availability you should plan to book as soon as possible.
How do we make a booking? Refer to the Rates tab for detailed booking instructions.
What is a security / damage deposit? A security / damage deposit is taken to ensure the cottage is left in the same condition as found including cleanliness and that all cottage guidelines have been adhered to.

Do I have to clean the cottage? Yes. In most areas of Cottage Country, it is difficult to arrange cleaning services on a consistent basis. Therefore, we have found the only system that works, is to require guests to clean the cottage prior to leaving - the basic rule of thumb is leave the cottage in the same condition as you found it for the next guests to enjoy. Cleaning supplies and equipment can be found in the main level laundry room. The cottage will be checked between rentals to ensure the state of cleanliness which is a condition for your security deposit to be returned. Full details are included in your household rules document.

Can I have guests? Yes. Part of any vacation often requires entertaining visitors for the day however only those listed on the occupancy list as part of your rental agreement are permitted as overnight guests. This limit helps ensure the septic system runs trouble free. Here are some Do's and Don'ts for the Septic System maintenance. Failure to comply with the maximum occupancy may forfeit your deposit.
What is the difference between a PFD and a Lifejacket?
Personal Flotation Device
A PFD is less bulky and less buoyant than a lifejacket.
A PFD may not roll a person into a position where their head is out of the water.
A PFD is preferred for active sports such as canoeing or fishing because it allows for greater movement.
Canadian-approved PFDs are available in a variety of colours.
Lifejacket
A lifejacket will hold the wearer in an upright position and, in most cases, roll a person from the face-down to the face-up position.
Canadian-approved lifejackets must be red, orange or yellow.